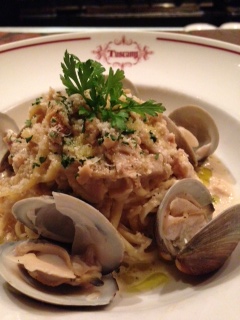 Ingredients
3 tablespoons kosher or coarse sea salt
1 pound linguine
12 tablespoons extra-virgin olive oil
4 cloves garlic, thinly sliced
1 pound New Zealand cockles or 24 Manila or littleneck clams, scrubbed
1 tablespoon plus 1 teaspoon red pepper flakes
1 cup dry white wine
1 (14-ounce) can whole San Marzano tomatoes in juice, juice reserved and tomatoes coarsely chopped
1/2 cup plus 2 tablespoons fresh flat-leaf parsley, coarsely chopped
Preparation
In large pot over moderately high heat, combine 8 quarts of water to boil and salt. Bring to boil, then add linguine and cook to 1 minute short of al dente according to package directions (pasta should still be quite firm).
Meanwhile, in large sauté pan over moderately high heat, heat 6 tablespoons extra- olive oil until hot but not smoking. Add garlic and sauté until just golden, about 30 seconds. Add clams and 1 tablespoon red pepper flakes and sauté 1 minute. Add wine, tomatoes and juice, and 1/2 cup parsley and simmer, uncovered, just until clams open, 7 to 8 minutes.
Reserve 1/2 cup cooking water, then drain linguine and add to pan. Simmer, tossing occasionally, until linguine is just tender, about 1 minute. If necessary, add some of reserved cooking water to keep moist. Remove from heat. Add remaining 2 tablespoons parsley, 1 teaspoon red pepper flakes, and extra-virgin olive oil, tossing to coat. Transfer to serving dish and serve immediately.